ARCS Foundation in Florida honored the recipients of the STEM Catalyst Awards 2013 at the Awards Dinner on February 9, 2013 at the Hilton St. Petersburg at Carillon Park. These Awards are honoring the best catalysts in advancing STEM (Science, Technology, Engineering, Math and Medical Research) in America. 
STEM Economic Driver Award 2013 
To Draper Laboratory; accepted by Dr. John Burns, Draper Director, Multichip Module Facility, St. Petersburg
Sponsored by St. Petersburg Downtown Partnership; presented by Peter R. Betzer, Ph.D., President & CEO
STEM Innovation & Research Award 2013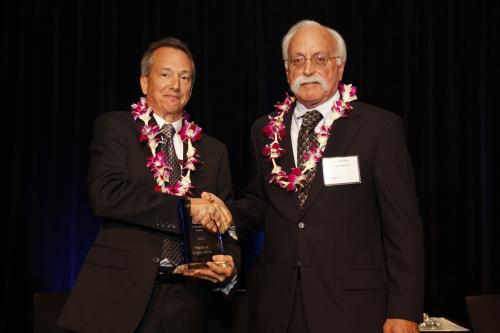 To Robert H. Byrne, Ph.D., Distinguished Research Professor, University of South Florida, College of Marine Science
Sponsored by SRI International; presented by Larry Langebrake, Director SRI St. Petersburg
STEM Visionary Catalyst Award 2013 
To Peter R. Betzer, Ph.D., President & CEO of St. Petersburg Downtown Partnership
Sponsored by Progress Energy; presented by Melissa Seixas, Community Relations Manager
Specials tributes from Congressman Bill Young, Curtis Carlson, CEO of SRI International, USF College of Marine Science and Lawrence University. 
STEM Collaborative Partnerships Award 2013 
To Gulf Oil Spill First Responders, led by William T. Hogarth, Ph.D., Interim Chancellor USFSP/FIO Director; and honoring a total of 52 people and 25 organizations
Sponsored by Draper Laboratory; presented by Dr. Shankar Sundaram, Draper Bioengineering Center at USF, Tampa and Dr. John Burns, Draper Director, Multichip Module Facility, St. Petersburg
"We are celebrating the brilliant STEM initiatives by people and organizations here in Florida who are positively impacting lives in America and the world." stated Linda Seefeldt, President of ARCS Foundation in Florida. "We are pleased to host the STEM Catalyst Awards along with our major sponsors; Ameriprise Financial, Progress Energy, Draper Laboratory, SRI International, and St. Petersburg Downtown Partnership, along with numerous partners and friends of ARCS Foundation." 
The STEM Catalyst Awards purpose are to reinforce the results and impact of STEM initiatives in our communities, to encourage STEM focus partnerships between and among public & private entities, to recognize multidisciplinary partnerships and collaborations that focus on the STEM disciplines (science, technology, engineering, math and medicine) and to expand awareness and engage people in ARCS Foundation that provides scholar awards to college scientists.
ARCS Foundation is the first and original grantor of STEM Awards since 1958, having given over $83 Million in 14,000 annual awards to over 8,300 American science and technology scholars.  100% of all contributions to ARCS Scholar Awards go directly to the scholars.  ARCS Foundation members are all volunteers who contribute their time and money to cover operations.  The investment we make in our brilliant ARCS Scholars today will advance science in America.  These Scholars are our Nation's next innovators, economic drivers, collaborators, and visionaries.
We invite those individuals and organizations that are interested in advancing science in America to join us next year for the STEM Catalyst Awards 2014 and to watch for details to register online at www.arcsfoundation.org/tampa_bay.
"Please join us here as we invest in more ARCS Scholars in Florida who will lead the STEM impact on our global communities: www.arcsfoundation.org/tampa_bay" stated Linda Seefeldt.
About ARCS Foundation
ARCS Foundation advances science and technology in the United States by providing financial awards to academically outstanding U.S. citizens studying to complete degrees in science, engineering and medical research. In over 50 years of its existence, the National ARCS Foundation, Inc. has provided $83 million in over 14,000 Scholar Awards.
ARCS Foundation in Florida is committed to enriching the quality of life in Florida by attracting outstanding scholars who are completing graduate degrees in Cancer Biology Ph.D. Program at Moffitt in the College of Arts and Sciences, and College of Marine Science, at University of South Florida.
Recognized as a non-profit 501(c) (3) corporation, the corporation is registered as ARCS Foundation – Tampa Bay. Registration CH31924. A copy of the official registration and financial information may be obtained from the division of consumer services by calling toll-free 1-800-435-7352 within the state. Registration does not imply endorsement, approval or recommendation by the state.
100% Donor Contributions go to ARCS Scholars.
The Gulf Oil Spill First Responders:  Totaling 52 individuals from 25 organizations
Led by Dr. William Hogarth - USF/FIO
25 First Responders representing 7 organizations:
University of South Florida:
President Judy Genshaft, 
Provost Ralph Wilcox, 
Dr. Karen Holbrook, Vickie Chachere,
 Dr. Ernst Peebles, 
Dr. David Hollander, Kara Radabaugh, 
Dr. Robert Weisberg, Dr. Chuanmin Hu, Dr. John Paul, 
Dr. David Naar, 
Ethan Goddard, Dr. Kendra Daly, 
Dr. Andrew Remsen
Florida Wildlife Resource Commission
Gil McRae-FWRI
United States Coast Guard

Eckerd College
Dr. David Hastings

NOAA
Dr. Steve Murawski
Florida Institute of Oceanography (FIO)

Brendon Baumeister, 
David Coy, Thomas Lee, George Guthro, Robert Walker, William Slee
Exemplary Reporting on the Gulf Oil Spill:

There are 27 people representing 18 news organizations.

National media: 

Associated Press: Cain Burdeau, Seth Borenstein, Mitch Stacy, Tamara Lush and Matt Brown.

National Public Radio: Diane Rehm and Denise Couture

Lehrer NewsHour: Tom Bearden

The Weather Channel staff

McClatchy News: Renee Schoof

CNN: John Couwels

ABC News – Diane Mendez

NBC News – Kristin Dahlgren

Changing Seas –  WPBT-Miami – Alexa Elliot and Jeremy Nicholson


Local television stations

WTSP – Kathryn  Bursch

WTVT – Laura Moody and Steve Nichols

WFTS – Carson Chambers

WFLA – Mark Douglas

Bay News 9 – Joey Johnson

WUSF – Mark Schreiner, Bobbie O'Brien and Steve Newborn


Florida newspapers: 

Tampa Bay Times – Craig Pittman

Palm Beach Post – Christine Stapleton

Sarasota Herald-Tribune – Kate Spinner
 

--
ARCS Foundation - Tampa Bay Chapter
Advancing Science in America
Our mission in Tampa Bay is to establish scholarship funds to attract talented ARCS Scholars to USF's Advanced Degree Programs in Cancer Biology and Marine Science.  www.arcsfoundation.org/tampa_bay